Watermarking your photos before sharing them with the world is a common practice in the photography industry and in many other industries as well. There are valid reasons why photographers, design artists, bloggers or e-commerce businesses decide to resort to this technique.
First of all, this is an effective method to discourage image theft. It's true, once you upload an image online, it automatically becomes susceptible to theft. But having a watermark on your photos will definitely make evil-minded users think twice before trying to steal your original work. Once you add a watermark you claim ownership of that content.
But watermarking isn't all about protection. It's also about branding and getting the exposure you most surely need. Having a text with your website or company name or your company logo on pictures will help people identify you, identify your brand. Moreover, if one of your watermarked pictures goes viral and gets lots of shares, it will definitely drive important traffic to your website and help you improve your online visibility.
Below you can find a list of 10 Windows apps that enable you to add a watermark to your photos.
Paint 3D
Paint 3D, an improved version of the classic Microsoft Paint, comes standard with Windows 10. This native app offers a combination of 2D and 3D tools to trigger your creativity when it comes to drawing and designing, but it also allows you to perform other useful tasks, such as watermarking for instance. It's true, this is a basic form of watermarking, but if you're looking for simplicity, this is worth a try.
In order to insert a text into your image, simply click on the Toolbar in the top left corner and then select Text. You can opt to use a 2D or 3D text and make small adjustments to it, such as changing the position, its size and angle of rotation, as well as selecting from various fonts and colors.
With Paint 3D you can also create from scratch or insert an existing logo into your photo. In order to add your logo, just go to Menu > Insert and load it into the program. You'll be able to modify its placement and size, rotate and flip it and turn it into a sticker or a 3D object.
BatchPhoto
BatchPhoto is a Windows app that allows you to watermark multiple photos at once. This is a solution to consider not only due to its batch processing capabilities, but also due to its ease of use. There are no confusing menus, no hidden options, everything is straightforward thanks to the three-step structure. Simply add your photos in the first step, apply and customize your watermark in the second and select your image format and output folder in the last step.
BatchPhoto enables you to add fully customizable text and logo marks. This gives you the opportunity to control the placement, size and rotation, to adjust the opacity, apply a tile mode, select from a wide range of font styles and colors or apply special effects like stroke, shadow and bounding box. To improve your workflow, the tool allows you to save your current watermarking settings as Profiles and load them in future sessions without having to repeat the same process.
It's worth mentioning that BatchPhoto offers many other features to optimize and retouch your photos. You can resize, convert (RAW support available), automatically rotate and crop, add the date and time, as well as adjust parameters like the contrast, brightness, saturation and sharpness and reduce the noise. There are also options to apply artistic effects and graphical frames and borders. As far as exporting goes, you can send your newly-edited images via email or upload them to FTP.
PhotoMarks
PhotoMarks is an easy-to-use watermark software for Windows. The tool comes with an intuitive interface, so you'll quickly get adjusted to how everything works, and offers previews for every step of the process. In order to protect or advertise your original photography you can add any type of text accompanied by a copyright or trademark symbol, as well as your company logo.
Both the text and logo are customizable. This means you can position them where you want, scale and rotate them, repeat them across the image both vertically and horizontally, adjust the transparency, choose your favorite font or apply various artistic effects. To save time and energy you have the option of saving your current configuration for later use. You can upload your processed images to FTP, send them via email or directly share them on Flickr.
If you need to watermark photos on the go, PhotoMarks also comes with a mobile version for iPhone and iPad.
iWatermark Pro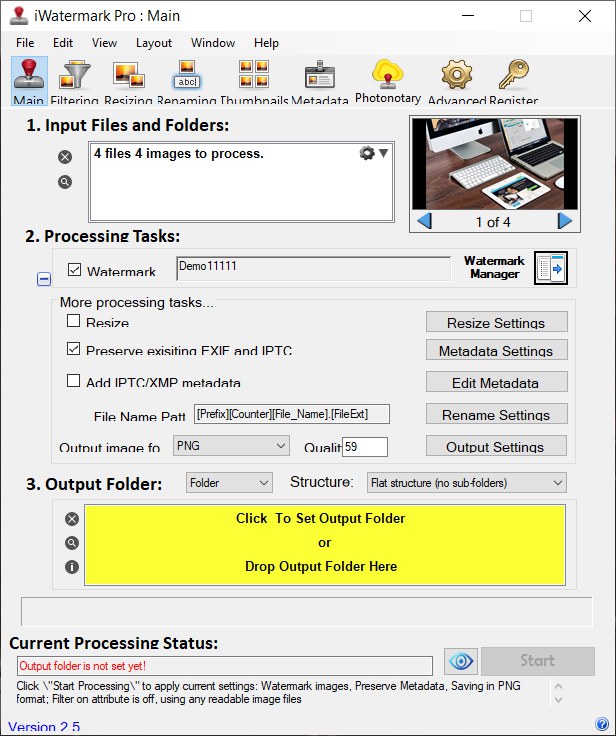 iWatermark Pro stands out from the rest through its multiple watermarking capabilities. The app places at your disposal a wide range of watermark types, from the classic text and logo to vector graphics, your own signature or QR codes. These are all visible, but the program can also add invisible watermarks such as metadata to the ITPC record or a StegoMark. The latter enables you to insert personal information like your website or email address into the image data itself.
iWatermark Pro lets you make plenty of adjustments to your chosen watermark, from selecting its placement (unfortunately you can't use drag and drop) and size to setting the opacity and applying effects like engrave, emboss or inverse. You can save your settings for later use and share your images via email or on popular social networks such as Facebook and Twitter. On the negative side, the interface is rather cluttered in comparison to other competitors and therefore it will take some time to get used to it.
uMark
uMark is a Windows watermark app that promises to make the entire process easy and quick. The interface leaves no room for confusion: on the left side you have the options to load your images into the program and to add the desired watermark, while on the right you can visualize your image and the changes made to it.
The tool gives you the opportunity to add various types of marks: a text, logo, metadata information, QR codes or diverse shapes which you can fill with solid or gradient colors. You can change the way the watermark looks by making numerous adjustments to it and save it as a template, so you don't have to start from scratch in a future project. Additionally uMark allows you to enhance your images by adding borders and shadows and various artistic and vintage filters.
Mass Watermark
Mass Watermark is designed to watermark photos in bulk, as the name might suggest it. The app comes with a clear interface: on the top left you load your photos, on the top right you see a preview of your watermarked picture, while on the bottom half is where you insert your text and/or logo and make various changes to the style, position, size and other available settings. The program also places at your disposal an in-built watermark designer in case you're feeling creative.
In addition to protecting and advertising your work, Mass Watermark offers other useful features as well. You can crop, resize and rotate your images and retouch them by adjusting the brightness, contrast or sharpness. When you've done with your editing, you can save your pictures on a local folder or directly share them on Flickr from within the app.
Star Watermark
Star Watermark is a software particularly developed to batch watermark images, videos and PDF files. The tool works by enabling you to create your own template and then edit it according to your preferences. You can use both texts and logos and customize them in terms of location (only preset positions available), scale (there's an option to automatically resize your watermark to fit your picture), rotation, transparency, special effects and more.
The program is quite efficient when it comes to watermarking, but is not exactly packed with features. Besides being able to protect your photos, you can only resize and convert them to a couple of popular image formats. It's also worth mentioning that you can only save your newly-edited images on a local folder.
Arclab Watermark Studio
Arclab Watermark Studio is a PC tool focused on protecting your original content. The software has a simple and clean design to avoid wasting time. The left side is reserved for adding images and applying the desired watermark, while on the right side you get a large preview of the adjustments made.
You can insert a text, your company logo, as well as EXIF metadata and GPS location into your pictures. Customization includes all the necessary options, but the downside is that there's no option to freely drag & drop your text or logo marks for positioning and resizing. You can only select from preset locations and resize your logo by manually entering the new dimensions in pixels. Luckily you can save your current project for later use.
Add Watermark
Add Watermark is a watermark app for Windows developed to protect both photos and videos. The app allows you to add an existing text and logo, but also places at your disposal a wide range of shapes, art elements, effects and backgrounds to create a logo from scratch. At the same time you can directly choose from a wide range of already designed watermarks.
Add Watermark is fairly easy to use. Once you've selected your watermark, you can choose one of the four preset patterns: freestyle, tile, cross and plus and begin adjusting it with regard to its placement, rotation, size, opacity and more. Once you're done, you can directly share your pictures on social media.
Watermark Software
Watermark Software is another alternative to take into account. The app has a simple structure, with all the available options lined up in tabs and with a generous preview available. You can add text and image watermarks and adjust them in numerous ways: from freely moving, scaling and rotating them to setting the opacity and applying various effects. There are also logo samples available if you don't have one already.
The software offers other options besides watermarking. You can crop, resize, convert, add artistic effects, borders and frames to your photos. You can also create customized templates, so you don't have to repeat the process in your next editing session.