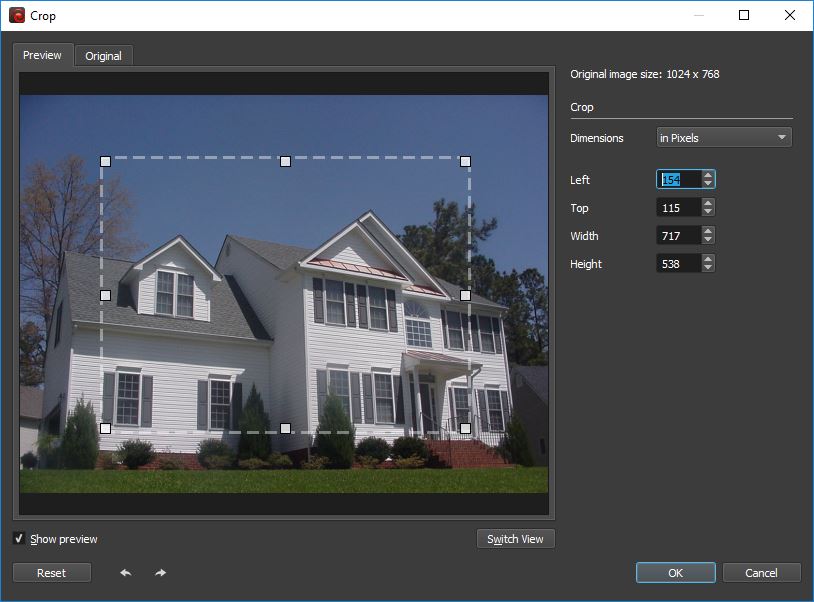 Optimizing your photos before uploading them online is a truly important task for any visual content creator. In addition to resizing, rotating, watermarking or performing color corrections, in many cases you'll also need to crop your photos. Cropping may be a necessary operation for several reasons: to improve the image composition, to change the aspect ratio, to remove unwanted elements from a picture or to maintain the focus on the main subject.
Because it's a common type of edit, you can find the crop tool available with numerous photo editing tools. In this article we've put together a list of 10 Windows apps that allow you to crop your photos with ease. You don't actually need an expensive and complicated tool like Photoshop as long as you have lightweight and accessible tools at your disposal, capable of effectively carrying out this task.
Microsoft Photos
Since we're talking about Windows apps, why not start off with the one that comes along with Windows 10? Of course, Photos is not the most sophisticated tool you can use, but it is still capable of performing some basic tasks, including to crop photos.
In order to remove undesired elements from your image, just open your image in the app, go to Edit (Ctrl+E) and then click on the Crop and Rotate button. Now you have two options to crop your images. If you want to do it manually, just drag the circles located in the corners of the photo until you get the desired result. The second option is to click on Aspect Ratio and select a standard size, such as 16:9 or 4:3. If you don't want to overwrite your original picture, remember to choose "Save a Copy".
Unfortunately Microsoft Photos doesn't come with a batch processing feature, which means you can only crop your images manually, one by one.
BatchPhoto
BatchPhoto is the go-to Windows app if you need to crop multiple photos at once. The tool is particularly designed for batch processing and is super easy to use. All you have to do is follow a simple, three step-process: add your files in the first step, apply the desired filters in the second and select your output format and destination in the last.
Batch Photo places at the disposal of users two alternatives for cropping images: Auto Crop and Crop. The Auto Crop feature is designed to automatically crop photos to a predefined aspect ratio, such as for instance 1:1, 4:3 or perhaps 16:9. If the predefined options don't suit your needs, you can always define your own aspect ratio. The Crop feature gives you the possibility to manually select the desired cropping region by either entering the preferred coordinates in pixels or percentage or by simply using drag and drop.
In addition to cutting pictures, BatchPhoto can help you further optimize your images by performing other operations, like converting, resizing or rotating. The app also offers the option to add a date stamp to images, protect or brand them with a text or logo watermark, as well as color correct them by fixing the brightness, contrast or saturation. A truly useful feature of this tool is the fact that you can save your current settings as Profiles and simply load them later without having to apply the same edits.
BatchPhoto Espresso
If you don't want to install another software on your PC, it's good to know there are plenty of online alternatives worth taking into account. One of these alternatives is BatchPhoto Espresso, the free online and mobile version of BatchPhoto.
The tool is quite easy to use and allows you to add multiple pictures at once, if they all require the same type of changes. You can crop your images in no time in two ways: by selecting the cropping region with drag & drop or by manually introducing the desired dimensions for the width, height, left or top. A preview will be available so you can visualize how the changes affect your picture, as well as useful Undo and Redo buttons.
In addition to cropping, BatchPhoto Espresso offers other useful features to optimize and enhance your images. You can resize, rotate, adjust the brightness, contrast and saturation, sharpen, reduce the noise or apply various artistic effects to a batch of pictures.
Pixlr E
Pixlr E is an advanced photo editing software designed to offer you numerous possibilities to enhance your photos. You'll find it available for Windows and Mac, for Android and iPhone, as well as an online tool. What's interesting about it is the fact that it places at your disposal not only the standard cropping tool, but also cutting tools like lasso, cutout or shape.
Of course, you'll be able to crop your images the classic way: by dragging the corner handles of the rectangle, by setting the dimensions for width and height or by selecting from a wide range of predefined aspect ratios. But you can also use the cutting tools to delete a certain area of the photo, to  move it to another layer or to trim the image in a square, circle, triangle, star or heart shape. The possibilities are quite extensive.
The online version of Pixlr offers a feature to batch edit images. Among others, you can crop, resize, sharpen, auto enhance, adjust the highlights and shadows, the contrast, exposure and saturation of multiple photos simultaneously. In the free version though you can upload a maximum of 5 files.
Ashampoo Photo Commander
Ashampoo Photo Commander is an interesting tool to consider because it gives you the possibility to not only optimize your pictures, but also to properly sort and organize them based on your individual criteria. Cropping images is fairly easy with this app: all you have to do is hold down the left mouse button and drag to select the desired area. Then you have a couple of options at your disposal: crop or cut the image, copy the selection or apply various edits to it. You can also choose a preset aspect ratio, as well as remove the background of your original picture.
In addition to cropping, with Ashampoo Photo Commander you can resize and rotate your photos, improve them by adjusting the contrast and colors and reducing the noise, as well as apply special effects like tilt-shift, blur or vintage. Another interesting aspect is the fact that you can create slideshows, greeting cards or collages from your collection of photos. If you're dealing with numerous photos that require the same changes, the app comes equipped with a batch processing feature to save time.
PhotoScape X
PhotoScape X is an all-in-one photo software developed with a large diversity of features. With this program you can view and organize your photo library, capture screenshots, create collages and of course apply numerous edits to your pictures. This editor offers more than a thousand filters and effects, various brushes and tools for advanced editing, as well as options to merge images into HDR, to remove the background and optimize pictures.
Naturally, PhotoScape X comes with an often-needed feature to trim photos. For that purpose it places at your disposal three options: Crop, Perspective Crop and Circular Crop. You can crop an image freely without any restraints or by setting a specific aspect ratio (you can custom define it or choose from the multiple preset alternatives). You can additionally select a 2×2 or 3×3 grid for your cropping needs. It's worth mentioning that PhotoScape X enables users to batch crop images, but the only way to do it is by manually entering the new values for the image coordinates.
Zoner Photo Studio X
Zoner Photo Studio X is designed to help you better organize your photos and edit them in order to improve their overall appearance. When it comes to cropping, it's pretty simple: just enter the Develop module and select the Crop and Rotate tools. Then, once the cropping frame reveals itself, simply adjust it until you get the desired result. You can also make the cropping frame preserve a certain aspect ratio, such as 1:1 for instance.
Zoner Photo Studio X can also help you improve the aspect of your pictures automatically. You don't have to manually adjust the contrast, exposure or saturation, since the tool comes packed with a wide range of presets to auto-enhance your images. You can also create your own presets, save them and use them later for faster editing.
Topaz Studio
Topaz Studio is another option for PC users looking to crop images in bulk. The app is easy to use and offers you multiple options to retouch your images, including the useful feature to crop and straighten your pics. You can do this by selecting from the predefined aspect ratios or by entering custom values for the width and height. There's also the option of freely cropping out the unwanted elements by using drag and drop.
If you need to perform other types of optimization to your photos, it's good to know that you can straighten, resize, flip or rotate them to the desired angle. With Topaz Studio you can go even further and create an impressive array of looks for your images. You can achieve this by blending multiple image layers together, performing various types of adjustments or by applying numerous artistic effects.
Click 2 Crop
Click 2 Crop is an easy-to-use solution to trim photos on Windows. Although it feels obsolete, the interface is easy to navigate. On the left side panel you can see your original picture with the cropping frame, while on the right side of the screen you can visualize a live preview of the edited picture. The program lets you crop images using a free aspect ratio or a fixed one, such as 4:3 or 16:9. You may also use one of the multiple guides available to improve image composition.
Cropping is indeed the core of Click 2 Crop, but this doesn't mean you can't perform other operations. This tool is designed with options to rename, rotate, resize and resample photos, as well as add text and logo watermarks and borders to them. You can also fine tune your pictures. In that sense you'll find features to adjust the colors, to correct the white balance or sharpen your photographs.
BatchCrop
As you might've guessed it, this is a Windows tool specially developed to cut photos in bulk. And because it was particularly created for this purpose, BatchCrop offers plenty of cropping options. You can, of course, use drag & drop, use arrows to move the cut region or manually enter the values for the crop width and height. The program is also designed with an intelligent algorithm that automatically detects the crop region for a margin, in the case of scanned photos.
BatchCrop is not limited to just removing certain parts from a picture. The program boasts other useful features for image editing. Depending on your needs, you can convert, resize, rotate, flip or watermark photos. You can also remove dust spots (manually or automatically), perform color corrections or add text and borders. On the downside, the interface seems pretty obsolete and confusing.