Batch editing photos is an optimal solution if you're looking to significantly improve your workflow. This is the ideal process in case you're dealing with multiple images that require the same type of adjustments. You can't really afford to individually resize, rotate or crop each photo in a batch of 50 shots. It would take up too much of your time and energy.
There are plenty of programs that allow you to edit multiple images simultaneously. But what if you don't want to install another software on your computer? Well, there's absolutely no problem. You can accomplish this task online. In this article we're going to show you how to edit photos online in bulk in a simple way. Below you can find a list of browser-based tools you can effectively put to use to automate the editing process:
BatchPhoto Espresso
BatchPhoto Espresso is a free online photo editor with batch processing capabilities. The tool is super-easy to use thanks to its three-step concept. All you have to do is add your pictures in Step 1, apply the desired edits in Step 2 and choose your image format and quality in Step 3. That's all there is to it.
In terms of editing, BatchPhoto Espresso places at your disposal a large variety of options. You can optimize images for web use by resizing, cropping or rotating them, retouch them by adjusting the contrast, brightness and saturation, sharpen them or reduce the noise. You can also apply various special effects to them, such as black & white, charcoal or sepia. There are previews available for every step of the process.
PhotoSize
PhotoSize is an interesting solution to reduce image size online in batches and free of charge. The tool comes with an easy-to-navigate interface that makes it easy to familiarize yourself with the way everything works. Simply load your photos, apply the desired filters and then select your saving configuration. Previews are available so you can visualize in real time the changes made.
PhotoSize is indeed designed for batch resizing images online and offers various options in this regard, but this is not the only operation it can perform. The tool can help you further optimize and improve the overall appearance of your shots. For that purpose you can rotate, crop and convert them to popular formats, add text comments, retouch them in terms of brightness and colors, as well as apply artistic filters.
BeFunky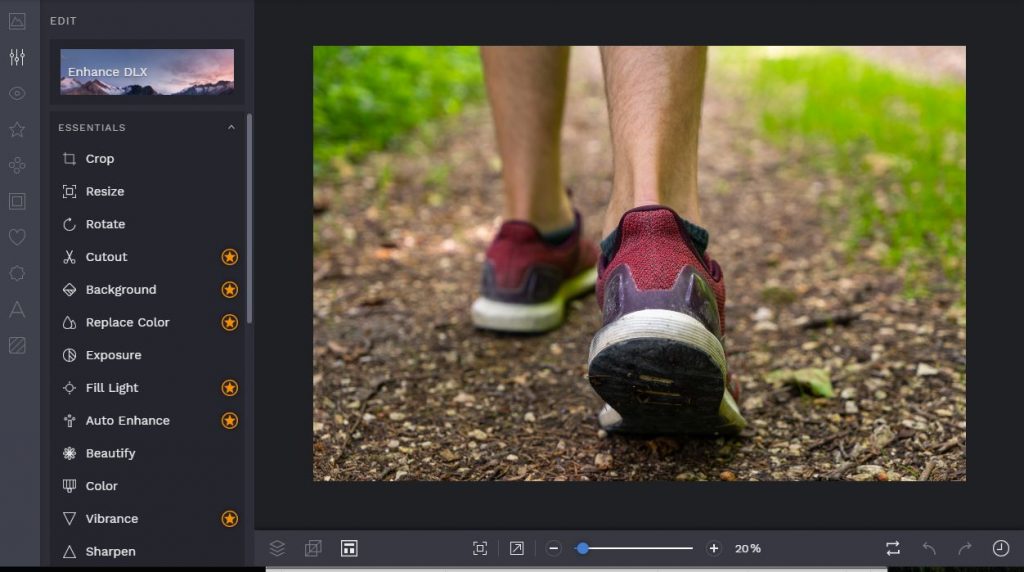 BeFunky is an all-in-one online photo editor. This multipurpose tool enables you to edit your pics, make collages and also create a wide range of graphic designs. The image editor is quite rich in features and offers you the opportunity to easily edit multiple photos at the same time. The downside is that the batch processing feature is not free and you'll have to sign up for a monthly subscription.
With BeFunky you'll be able to batch edit your pictures in various ways in order to create stunning imagery. This browser-based tool gives you the chance to resize and crop them, make adjustments to the levels, exposure and colors, improve the clarity or correct the lens distortion. At the same time you can apply a wide range of artistic filters and cinematic effects like vignette, warped blur, old photo or vintage.
iLoveIMG
iLoveIMG places at your disposal plenty of features to edit images in bulk online and free of charge. The tool comes with a truly intuitive design, which makes it quite easy to use regardless of your editing skills. It's also worth mentioning that you can upload images not only from your computer, but also from Google Drive and Dropbox.
So, what exactly can you do with iLoveIMG? Well, the software offers you options to compress, resize, rotate, crop and convert images, including from HTML to JPG or SVG. If you want to protect your original content, the tool enables you to batch watermark photos using either a logo or text. There's an additional photo editor available with various retouching options, but you can only add images one by one.
Watermark.ws
Watermark.ws is primarily designed to help you protect your online content. This includes not only your photos, but videos and documents as well. The tool comes with a free version, which allows you to process one file at a time. In order to be able to process multiple files at once, you'll have to pay a monthly subscription fee.
Watermark.ws has a clean and clear design. In the first phase of the process you import your photos from your computer or from the cloud, edit them in the second phase, while in the third you can select one of the numerous export options. It's important to mention that the tool isn't restricted to watermarking. In the same editing session you can resize, flip, crop or rotate photos, add borders, adjust the exposure or apply diverse filters.
BIRME
BIRME stands for Bulk Image Resizing Made Easy. This free online tool was developed to help you resize multiple images at once in a simple and efficient manner. All you have to do is load the images from your computer and select the preferred dimensions for the width and/or height. You can also manually set an image focal point or allow the program to do it automatically.
BIRME gives you the chance to preview your photos before processing them and to select the image quality for your pictures. In addition to bulk resizing, you can't really perform other useful operations. What you can do is to rename your images and add a border to them.
Bulk Resize Photos
Bulk Resize Photos is a simple online solution to reduce the size of your images in bulk. The tool is completely free and works in a simple mode: load your images, select the new file size or the new dimensions for the width and/or height and then click on the Start Resizing button.
The downside is that, besides reducing image size, Bulk Resize Photos only offers the option of converting images to a popular format like JPEG or PNG. For protecting or promoting your original photography you can resort to its sister tool, Batch Watermark.