Whether we're talking about Nikon's NEF, Sony's ARW or Canon's CRW, shooting in RAW comes with significant benefits. This professional way of shooting enables you to enjoy the best possible quality for your images, get a higher level of details and a higher level of brightness, adjust with ease overexposed or underexposed images, as well as the white balance and other settings.
Converting RAW to JPG or other popular image format is a necessary step in case you need to send those images to a client via email, post them on social networks or photo sharing sites, upload them to your online portfolio or publish them in a blog post. RAW files tend to be 2-3 times larger than JPG files and this can have an impact not only on the space available on your hard drive, but also on your website's speed.
In order to convert RAW photos on Mac you can resort to a wide range of programs with RAW development capabilities. In this article we've compiled a list of ten Mac apps which you can use to effectively make the conversion to a more common format.
Preview
It's not mandatory to resort from the beginning to third-party apps. Since we're talking about Mac utilities, why not first take a look at Preview, Apple's own image viewer and editor. Of course, this is a basic solution for basic needs since it lacks the panache and abundance of features of other programs, but it can definitely get the job done.
This is the process you have to follow in order to process RAW files with Preview:
Open the photos you wish to convert in Preview
Go to File > Export Selected Images.
Click on the Format pop-up menu and select the preferred file type
Enter the desired file name, choose a destination folder and click on Save.
Preview gives you the opportunity to make other changes to your images. You can resize, rotate, flip, crop or annotate them, remove the background or make standard color adjustments.
BatchPhoto
BatchPhoto is a RAW converter for Mac with batch processing capabilities. The app is designed to read RAW files from almost all DSLR manufacturers and easily convert them to a widely-used format, such as JPG, PNG or TIFF. In addition to supporting a wide range of RAW formats, the program makes it possible to tweak, according to your preferences, specific RAW development settings like Demosaicing, White Balance and Highlights.
BatchPhoto comes with a clear and easy-to-understand interface, leaving no room for confusion. The app is quite easy to use thanks to its three-step wizard structure: add your photos, apply the desired edits and select your output format and folder. Speaking of edits, this Mac tool allows you to optimize your images for web by batch renaming, resizing, rotating or cropping them. For photographers who wish to protect or market their original photography, the app lets you add customizable text and logo watermarks.
Other highlights include adding the date and time, adjusting the contrast, brightness, hue and saturation, tweaking the color balance, sharpening your pics or reducing the noise. You can also apply a large variety of special effects to your images and add vintage frames. BatchPhoto is ideal for improving your workflow, since it gives you the possibility to save your settings as Profiles and simply load them in future editing sessions.
Luminar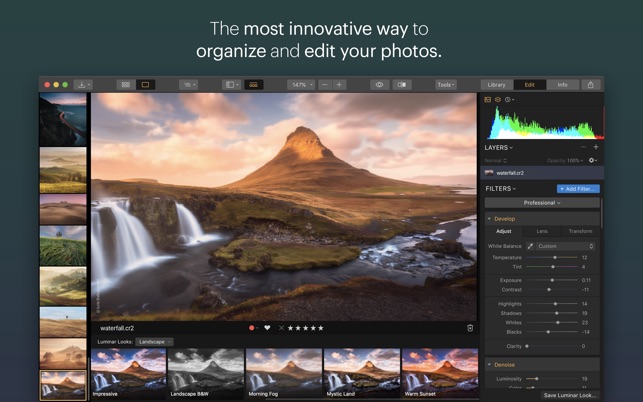 Luminar by Skylum is a powerful RAW image editor for Mac users. This is an alternative worth taking into account because it is not only rich in features, but also comes with a modern design that makes it easy to use. Luminar is a great choice for professional photographers first of all because it provides an impressive array of filters for proper RAW development. Second of all, because it has the capacity to suitably store and organize RAW and JPG images in your own library.
In order to edit and convert a RAW photo just open it in Luminar and go to the RAW Develop filter from the filter menu. This filter has three components: Adjust, Lens and Transform. The Adjust tab gives you the chance to adjust standard settings, such as the exposure, contrast, highlights and shadows or tint. The Lens tab enables you to correct any lens distortions, while the Transform tab allows you to fix other perspective problems and fix other issues, such as for instance leveling the horizon. Once you've obtained the look you were looking for, just go to the File menu, select Export and choose your file format.
Pixelmator Pro
Pixelmator Pro is a feature-rich photo editor, available exclusively on Mac. The app offers support for RAW images from more than 600 cameras, which is quite impressive. You can open a RAW file like any other image file or you can add it as a new layer. Adding a RAW image as RAW layer can be a great option, because it will give you the opportunity to edit it without having to process it first.
When it comes to RAW editing, there's an extensive list of options to select from. Depending on your preferences, you can choose to retouch photos manually or automatically. If you want to take control, it's good to know that over 30 types of color adjustments await you. On the other hand, Pixelmator Pro comes with numerous auto-adjustments based on artificial intelligence. For instance, you can resort to the ML Enhance feature that can automatically improve an images by tweaking relevant settings, such as the exposure, the white balance, color balance, highlights or shadows.
Affinity Photo
Affinity Photo is a Mac RAW converter designed to trigger your creativity. The app comes with a multitude of options to help you retouch your images in an innovative manner and hence make your artwork stand out from the rest. When it comes to editing RAW files, the program places at your disposal a series of professional tools to help you create outstanding images.
Once you open a NEF, CRW or RAF image, you can immediately visualize its histogram and begin making the necessary adjustments. Affinity Photo lets you tweak the contrast, exposure, clarity, vibrance, saturation or white balance, reduce the noise or perform advanced lens corrections including chromatic aberration, defringe and vignette. Once you've finished editing your photo, all you have to do is go to File > Export and select the preferred image format. You can choose anything you want, from JPEG and PNG to PSD and EPS.
Additionally Affinity Photo offers numerous features to perform useful operations, like removing unwanted objects from a picture, removing red-eye or retouching the skin. The app also comes packed with an impressive array of special effects such as tilt-shift, blur, glow or lighting.
RAW Power
RAW Power is a tool particularly developed to process RAW photos. With versions for both Mac and iPhone, the app supports files from hundreds of DSLR manufacturers, iPhone RAW files and certain DNG files (unfortunately for drone lovers DJI files are not supported at the moment, but you can import GoPro's GPR format). The app can be integrated with Finder and Photos and is also fully compatible with iCloud Photos, so that any change made can be synchronized across all your Apple devices.
RAW Power offers powerful tools for editing RAW photos. You can perform advanced Curve adjustments, tweak the Chromatic Aberration, Perspective and Vignette, adjust the white balance using a live sampler or take advantage of the Recovery tool to properly correct the exposure exclusively on the brightest areas of the picture. Additionally you can sharpen, crop and straighten your pictures, tweak the highlights and shadows, add a depth effect or apply built-in or custom LUT's.
Picktorial
Picktorial is a Mac photo editor and organizer that enables you to convert RAW to JPG or other popular format. This app comes equipped with a GPU-based RAW processing engine designed to guarantee a fast and efficient conversion process. The support for RAW files is pretty extensive, currently covering files from more than 500 digital cameras. There's also support for DNG files, so you can use RAW images from unsupported cameras by easily converting them to DNG.
Picktorial comes with advanced tools that enable you to adjust the tones and colors of certain areas, tweak settings such as the exposure, contrast, white balance, clarity, curves or saturation, remove blemishes and dust spots efficiently thanks to a powerful patching tool or clear the skin. Picktorial places at your disposal a multitude of presets to choose from and at the same time lets you create your own presets. For proper photo management, the program gives you the possibility to organize pictures by folders, set keywords or by using rating system.
Picktorial can be used as a standalone app or as an extension to Photos.
Raw.pics.io
If you don't want to install a new program on your Mac, you're free to resort to an online alternative. Raw.pics.io is a browser-based tool that allows you to view and convert RAW files. This image converter offers support for numerous RAW formats, including CR2, NEF, ARW, PEF, RAF or DNG. The tool doesn't require registration and lets you process for free a maximum of five files.
Raw.pics.io is quite simple to use. You can drag & drop your images or open them from your Mac. Next, from the icon-based menu, choose if you want to save certain pictures or all of them and select your export configuration. You can choose the output format, the quality, size and density of your pictures and then click on the Save button. The processed photos will be in the Downloads folder of your browser. There's also an option to directly share the pictures on social media.
In addition to converting, the tool is equipped with plenty of options to edit images. You can crop and rotate them, use curves, adjust the HSL, brightness, contrast and temperature and more.
RawTherapee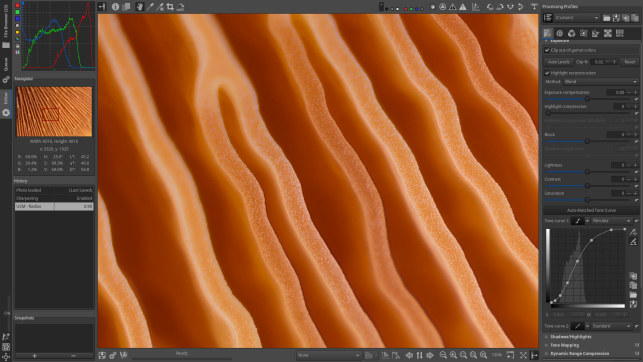 RawTherapee is an open-source RAW converter app. This cross-platform program is designed with an user-friendly interface that ensures a relatively easy navigation. Naturally, since it was particularly created for RAW development, it can read RAW files from all major digital cameras and places at your disposal a multitude of instruments to enhance and retouch your photos.
RawTherapee provides remarkable demosaicing features, which include the option of using two demosaicing algorithms on the same photo. The app allows you to perform all the corrections desired: adjust the exposure, contrast, shadow or glare, sharpen pictures or reduce the noise, tweak the vibrance and white balance. At the same time you can optimize your images by cropping, rotating and resizing them, as well as perform perspective control and distortion corrections. There's also an option to create and save your own profiles.
Easy Image Converter
Easy Image Converter is a simple alternative to convert RAW images to more popular file formats. This Mac app does not boast an impressive array of features, but it guarantees a quick conversion with just a couple of clicks. All you have to do is drag & drop your files or folder, choose the preferred output format from the Settings dialog and hit the Convert button.
Easy Image Converter supports 60 input image formats, which include diverse RAW files such as ORF, RW2, CRW, NEF or DNG for instance. When it comes to exporting, there's support for 20 output formats, including JPG, PNG, TIFF, PSD, PDF or WebP. As already mentioned, there aren't many other operations you can perform. Besides converting, you can only resize your images and turn full-color photos into monochromatic ones.