Collages are a great way to make your photography and videography stand out. If you want to display in style your memories from your latest trip, create awesome content for your social media followers or perhaps offer your loved ones a special anniversary gift, a collage is perfect for the job.
Putting together a collage is super easy to do today, thanks to the multitude of apps that are specially built to server this purpose. In this article we've compiled a list of some of the best collage makers you can creatively put to use if you're an Apple user:
VideoCollage
VideoCollage is our first proposal for creating an artistic collage. The app is available for both iPhone and Mac and enables you to create collages from photos, videos and music. VideoCollage comes with an intuitive interface and places at your disposal more than a hundred layouts for the design. The app gives you the option of adding a frame around your videos and images and adjusting it with regards to its size, color or texture. You can also change the aspect ratio, by selecting from 7 available formats.
The app lets you further customize your collage. You can zoom in and out, pan your photos and videos, insert a title or add your favorite song as background music and choose the exact point where it starts. VideoCollage invites you to do a little bit of DJ-ing by mixing the volume of each video and of the added song or by applying fade in/fade out audio effects. You can also change the order of the photos and videos inside the template simply by using drag and drop. Once you've put the finishing touches, you can easily share your video collage on Instagram or Facebook or send it via email.
PicCollage
PicCollage is designed to help you create beautiful collages from photos. You can add your own photos from your gallery, but there's also the possibility to search and add images from the web. The app offers a decent amount of layouts to choose from and lets you change the background according to your needs.
Once inside the layout, you can easily rearrange the placement of the pictures, adjust their size and rotate them to the desired angle. You can enhance your collage by adding customizable text comments or a large variety of stickers. You can save your creation in your phone, directly share it with your friends and followers on all major social networks or even select to print it.
PhotoGrid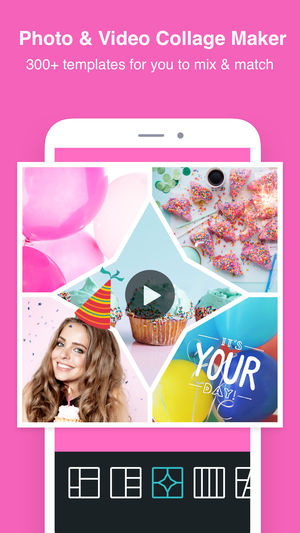 PhotoGrid is more than an iOS collage maker. This app is quite rich in features and offers you a multitude of options to edit your photos and videos, as well as create fresh visual content. When it comes to collage making, you have the option of adding up to 9 videos or 16 photos inside the template. Speaking of templates, get ready because there are over 300 available to choose from.
You can easily edit the photos and videos inside the collage. PhotoGrid enables you to swap the position of your files, trim, crop, flip or rotate them, adjust the scale, apply filters and artistic effects, zoom in and out and many more. Further customizing includes changing the aspect ratio and the background, adding the desired music, text captions or stickers. Besides collages, the app also lets you create slideshows, scrapbooks, posters, 3D cards or memes.
PicPlayPost
PicPlayPost is another collage maker app that gives you the opportunity to add both photos and videos. The app allows you to insert up to 12 photos and videos into the collage from your phone, as well as import videos from YouTube. You can select the preferred template and aspect ratio, as well as adjust the frame's color, size and thickness.
When it comes to audio, PicPlayPost lets you add your own music, mix the soundtracks as you wish, as well as insert multiple voice-over comments to the video. You can also add transitions, customizable text boxes and text or logo watermarks if you want to brand or protect the video you upload online. Once you're done you can export your resulting video on Facebook or YouTube or send via email email or WhatsApp.
piZap
piZap is an interesting solution to consider because it can serve multiple purposes. You can use it to create a wide range of designs, to edit your photos and, of course, to create eye-catching photo collages. The app places at your disposal over 1000 layouts to choose from and is truly easy to use. Simply select the desired template for the collage, upload your pics and use drag and drop.
piZap allows you to make diverse adjustments to the images inside the collage, including changing the contrast, brightness and saturation. You can also add a background, adjust the spacing, opt for rounded corners or change the color of the frame. As already mentioned, the app comes with numerous tools for image editing and for graphic design. Basically you can design anything you want, from memes and social media posts to logo and flyers.
Diptic
Diptic is a photo and video collage app for iPhone developed to make your stories stand out. The app comes packed with over 190 design layouts and lets you add up to 9 files (photos and/or videos) in each layout. You can add a border around the collage and make adjustments to its size, color or texture. Inside the collage you can swap the position of the photos, pan, rotate, flip or zoom them.
Diptic gives you the possibility to do a little bit of photo and video editing. You can adjust the contrast, brightness or saturation of your images, as well as apply artistic filters to them. When it comes to video, you can select the preferred start and stop time, add music and choose the starting point and many more. The app also offers the option to insert a text caption. When you're satisfied with the way the collage looks, you can save it or directly share it on social media.
Fotor
Fotor is both an editor and photo collage app. It comes with two type of templates for your collage design: classic, where you can insert up to 9 pictures, and magazine, which is the more stylish version of the two. As far as customizing goes, you're free to adjust the color and width of the frames, tweak the spacing, round off the corners or drop a shadow.
Fotor also gives you the freedom to make certain edits inside the template: you can change the position of the pics, rotate them or apply a wide range of special effects to them. At the same time, the app is a powerful editing tool. You can give your images a professional look by adjusting the brightness, contrast or saturation, by improving the sharpness, blurring out or cropping certain parts or by applying numerous effects and scenes.
Pic Jointer
Pic Jointer is an iPhone photo collage maker designed to trigger your creativity. The app offers hundreds of standard and stylish layouts and multiple possibilities to edit your collage. You get to adjust the aspect ratio to your preferences, tweak the frames and colors, pick the desired background, rotate, mirror, pan your images or zoom in and out.
With Pic Jointer you can spice things up by adding to your collage cool shapes and stickers and text captions with funky fonts and colors. The app also comes with editing tools in case you feel the need to fine-tune your images. Once you're done editing, you can easily share your content on Facebook or Instagram.
FotoJet
FotoJet is an app developed to create photo grids and collages on Mac. The tool is quite intuitive and implicitly simple to use. The first step is the most difficult, since you have to select one of the 700 templates available. There are different types of layouts available: photo grid, classic, modern, 3D, art, creative. Once you've chosen the template, you can upload your images and start the customization process.
FotoJet gives you plenty of possibilities to customize your photo grid or collage. In that sense you can freely reshape the cells using drag and drop, change the aspect ratio by choosing from multiple preset sizes, crop, rotate, resize and flip photos. At the same time you can set the spacing and roundness of the grids, perform color corrections, apply dozens of artistic effects or add text to your images. It's worth mentioning that this Mac app can be also used to create various graphic designs, such as posters, comics or photo cards.
TurboCollage
TurboCollage is an iPhone and Mac collage maker with a distinctive feature. With this app you are free to add as many images as you want inside the collage because, unlike others, it doesn't set a limit of photos.
TurboCollage is designed to work in two simple steps: you select your aspect ratio and then the photos you want to use. Next the app will automatically arrange them and create a stylish collage. The Mac version is more complex and offers numerous types of layouts to choose from, as well as multiple options to edit the collage to your liking.