Modern photo apps come with an impressive array of filters and effects designed to make our pics stand out. But sometimes we miss the small things, like for instance the classic date and time stamp on photos which can be useful from various perspectives.
If you wish to better remember a special event or moment captured with your phone's camera or perhaps you need to properly document your working activity, the best solution is to have the date and time embedded into your picture. Now you can easily do that with the help of your mobile phone.
There has long been a solution to add date/time to photos on your computer (Windows and Mac) in BatchPhoto, but if you are looking to do that directly on your iPhone or iPad we have compiled a list of 10 apps that you can download from the App Store:
PhotoMarks
PhotoMarks is an easy-to-use app to time stamp photos on iPhone. You can load an image from your phone or use the camera to capture a new one and then tap on Text to add your date and/or time stamp. Once you've inserted it into the picture, you can begin adjusting it to match your preferences. The app gives you the possibility to choose the exact position of the stamp, to rotate and scale it, to select the preferred font and color, to set the transparency, as well as add special effects like stroke and shadow.
When you're done customizing your stamp, PhotoMarks lets you directly share your photo on popular social networks like Facebook, Instagram and Twitter or send it via email to your friends. In addition to date stamping, the app allows you to add fully customizable text and logo marks as well. The great part is that, no matter what type of edit you wish to perform, it won't alter the original photos since PhotoMarks uses non-destructive editing.
The app works with both portrait and landscape images, supports batch processing and offers a useful feature to save your current settings as Profiles and just load them in future editing sessions.
Timestamp Camera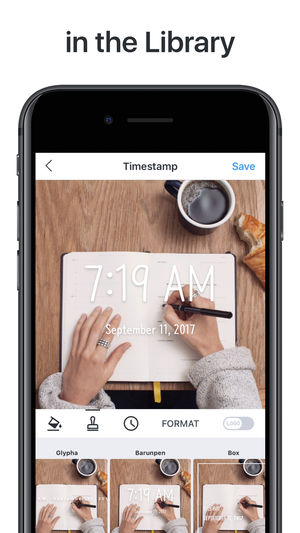 Timestamp Camera allows you to date stamp iPhone photos in style. The app comes with a large variety of stamp designs in accordance with the activity you want to record. In that regard the app offers you suitable stamps for food photos, for your workout sessions or perhaps for taking notes.
With Timestamp Camera you can modify the time manually and set the format as you like. You can also customize the stamp's color and, when you're done, share your pics on social media. Another interesting feature of this app is the possibility to apply your date stamp to multiple photos at the same time.
Timestamp It
Timestamp It addresses anyone who is looking to add the date/time to their photos, whether we're talking about photographers, journalists, realtors or social media users. The app makes the process easy and quick: take a photo or import one from your library, use the preset stamp settings or make the desired customizations and save your pic to Camera Roll or share it online.
Timestamp It allows you to make diverse changes to your stamp. You can use the current date or a custom one, adjust its location on the photo, select the font style and color and more. The app lets you edit images individually or in bulk (feature available with the subscription plan). If you do need to stamp multiple photos, it's good to know that Timestamp It can process up to 100 files simultaneously.
Timestamp Camera Enterprise
Timestamp Camera Enterprise gives you the possibility to easily add the current date and time to not only a photo, but video as well. You can place the stamp in 6 positions, choose between multiple text margin modes and make various adjustments with regard to the font style, color, size, text opacity or background.
In addition to a date stamp, the app enables you to import your own logo and add GPS information to the photo/video. You can insert the address, the altitude and speed and display the compass and map. Timestamp Camera Enterprise lets you set the timer before taking a picture and provides multiple video export resolutions, including 4K.
Timestamp Photo and Video
As its name indicates it, this is an app that lets you stamp both photos and videos. Timestamp Photo and Video allows you to easily insert a date and time stamp into your pictures and clips and perform various edits in terms of font, color, size or placement.
The app provides support for both portrait and landscape modes and allows you to change the date and time format by selecting from 45 available formats. You can export the newly-edited photo/video at the same resolution as the original file, so there's no quality loss.
1998 Cam
1998 Cam represents a great solution if you're looking to add a vintage look to your photographs. This is a camera app designed to bring back to life the retro feel of the analog film from the 90's. In that sense it places at your disposal more than 100 filters and effects, including film, retro, vintage, cinematic, grainy or black and white.
Naturally, 1998 Cam enables you to add a classic date stamp to your pics. The app lets you choose the format, enter the current or a custom date and adjust the size of the text. Unfortunately you can't do anything about the location of the stamp or the color. Additionally you can crop and straighten your photos, as well as improve their overall aspect.
Timestamp Images
Timestamp Images is designed with two main options. You can either take date stamped pictures directly within the app or select pictures from Camera Roll and apply the desired stamp. The app allows you to select up to 5 photos in the free standard version and an unlimited number if you upgrade to Pro.
Timestamp Images lets you customize the stamp as you please. You can adjust its format, the location, color, font or size, as well as configure the date (choose the current date, the date the photo was taken or set any date you want). In the paid version, the app also offers the option to watermark your images.
Auto Stamper
Auto Stamper offers you the option to automatically insert the current date and time into your pictures. Designed with a simple and intuitive interface, this app makes it easy to add such a stamp and apply various edits to change its aspect. To that end you can adjust the stamp's position and size, choose the right font from multiple formats, the right color and also set the opacity level.
Auto Stamper prides itself on being more than a date and time stamp app. In addition to this, it can also add three other types of watermarks: signature text, GPS location and logo. All of them are customizable and can be applied on the image at the same time. The app also has a Live option so that you can see a preview of how your new stamp will look like.
DateStamper
DateStamper is a solution available not only on your iPhone and iPad, but on your Mac as well. The app uses non-destructive editing and allows you to apply your stamp to a single photo or to all the photos available in the album at once (the batch feature is available in the paid version).
You're free to customize the text in terms of font, position, size or color. You can apply effects like stroke and shadow and make changes to the date and time format. It's worth mentioning that you can use the DateStamper extension to date stamp a picture directly in the Photos app. Besides the date, the app lets you insert the GPS coordinates or your own captions.
DateCam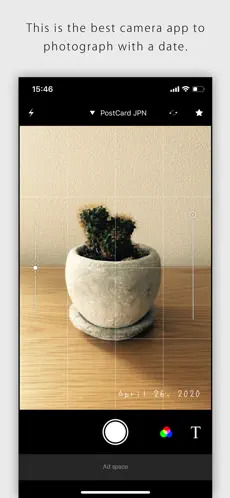 DateCam is a simple, yet interesting date stamp app. There's nothing confusing about the editing process: all you have to do is take a photo with your iPhone or iPad and afterwards just start customizing the stamp. You can choose between diverse date formats, adjust the text's size or select the preferred font style and color.
DateCam is an interesting solution because it comes with other noteworthy features. For instance, the app gives you the possibility to shoot remotely by using two devices. Another useful feature is the fact that you can save your stamped photos using different aspect ratios, such as 1:1, 16:9 or 4:3. At the same time you can apply various filters to enhance your images.