A picture taken with your digital camera or smartphone will look perfect on your device. But, once you transfer it to your PC, the same picture will not be correctly displayed. It will appear sideways or upside down. In this case you'll need to fix its orientation to be properly viewed.
If you take just a few photos at a time, rotating them one by one, after transferring them to your computer, is not a big deal. But what if you take hundreds of photos and after transferring you find out many are actually portrait pictures displayed in landscape mode?
Usually, when we are confronted with such a problem we know there has to be a better way. Fortunately most of the latest digital cameras now come equipped with orientation sensors that recognize the portrait or landscape orientation of the camera when taking the picture, and save this information into the metadata (EXIF record) associated with each image file. In spite of this, many cameras don't have the option of rotating the pictures in place when saving to the memory card.
The good news is that there is more than one solution to this problem:
If you use a software to transfer the photos from your digital camera to your Mac or PC, the program may have the option to automatically correct the orientation of the photos before writing them to the computer.

You can also use a batch photo processing software to automatically rotate all of your images in one session after moving them to your Mac or PC, at any time. The software will take all your photos as input and only rotate the ones that don't have the correct orientation so you don't need to pick them by hand.
There are also photo viewers that detect the photo orientation and display them correctly without modifying the photos at all.
Rotate Multiple Images with Ease
Introducing BatchPhoto, our PC and Mac tool developed to automatically rotate multiple photos at once. BatchPhoto makes the task of rotating digital photos easy and fast by processing hundreds of pictures in one session and by taking advantage of multi-core processors to speed up the process. The operation can even be performed directly from Windows Explorer's contextual (right-click) menu.
The program is designed as a three-step wizard. Here's how simple it is to automatically correct the orientation of your pictures:
Step 1
The first thing you need to do is load your photos into the editor. You can do this in various ways: drag and drop them, click on the Add Photos button to add files individually, click on Add to add an entire folder with or without subfolders.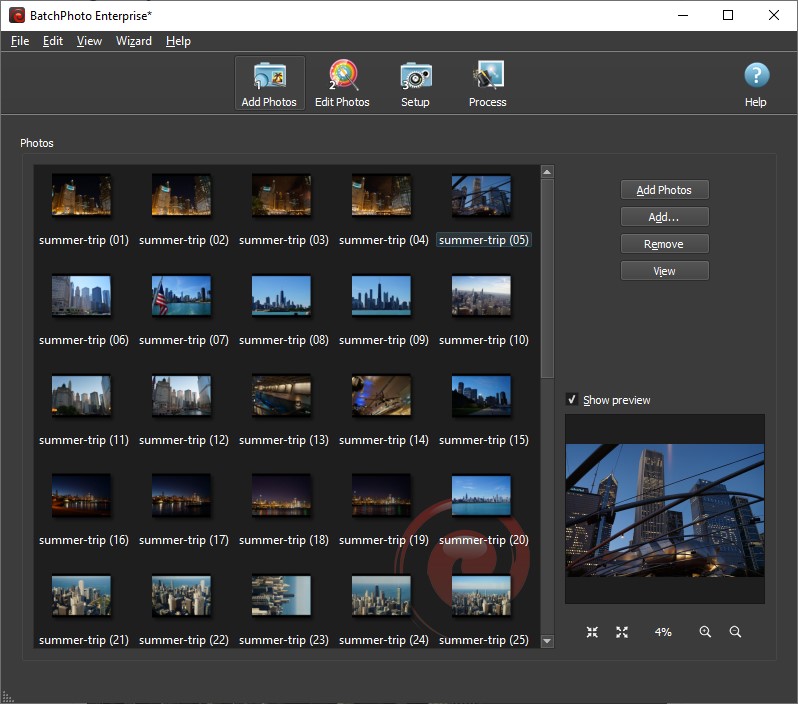 Step 2
In the second step is where you edit your images. In order to automatically rotate them, just click on Add Filter > Transform > Auto Rotate.
That's all there is to it. You don't have to adjust any settings or make other changes. The program will automatically correct the orientation of the photos using the data found in the EXIF/IPTC record.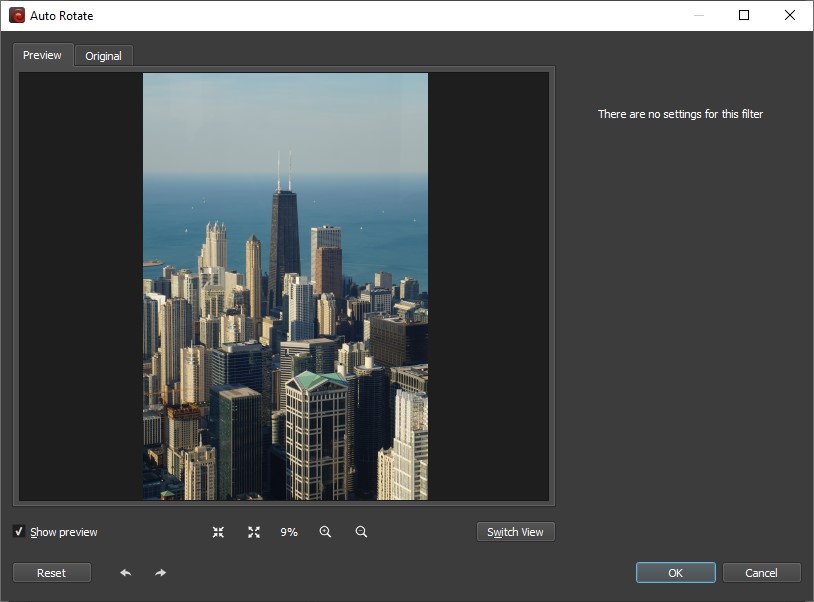 BatchPhoto also has an option to manually rotate photos by a specified number of degrees. You can either rotate the image 90 degrees to the left/right or manually enter the number of degrees.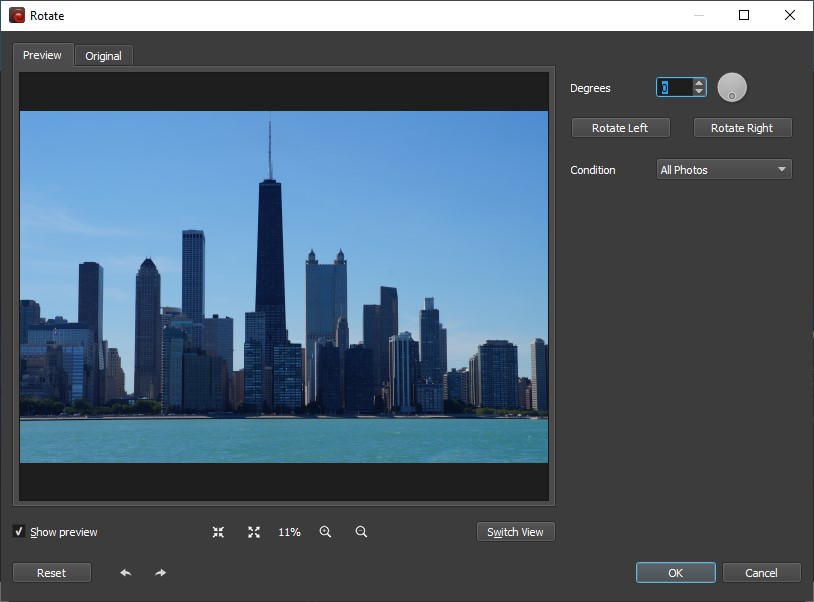 With BatchPhoto you can do much more when it comes to image optimization and enhancement. The tool allows you to convert (RAW support), crop, resize, watermark or add the date and time to photos. At the same time you can automatically adjust the contrast and color levels, improve the brightness and saturation or apply special effects like black and white, sepia or oil paint.
Step 3
In the third step you set your final parameters before the program starts processing the photos. You can choose the destination of your pictures (a local folder on your computer, upload them to FTP or share them via email), as well as the image format.
Once you've set up everything, just click on the Process button. Next the program will apply your edits to the entire batch of photos.
BatchPhoto is a tool specifically created to improve your photo editing workflow. That's why, in addition to the batch processing feature, it offers another useful feature. The program allows you to save your frequently-used operations as Profiles and load them in future editing sessions. This way you won't have to repeat the same edits over and over again.
If you'd like to give BatchPhoto a try, you can download the fully-featured trial version here.