Optimizing images for web use is a compulsory step if you want to offer your visitors the best possible user experience.
Whether you have an e-commerce website and constantly upload product images, you're a blogger who always incorporates visual elements into your content or a marketer looking to enhance social media posts with quality pictures, you need to pay attention to the size and dimensions of your images.
Optimized images can significantly improve the performance of your website or blog. Uploading large file sizes will directly affect the page loading speed and will implicitly push visitors away. Moreover, smaller images are easier to share via email or other platforms and take up considerably less storage space.
In this article we've created a list of 10 free tools which you can use to reduce the size of your images without having to install any software.
BatchPhoto Espresso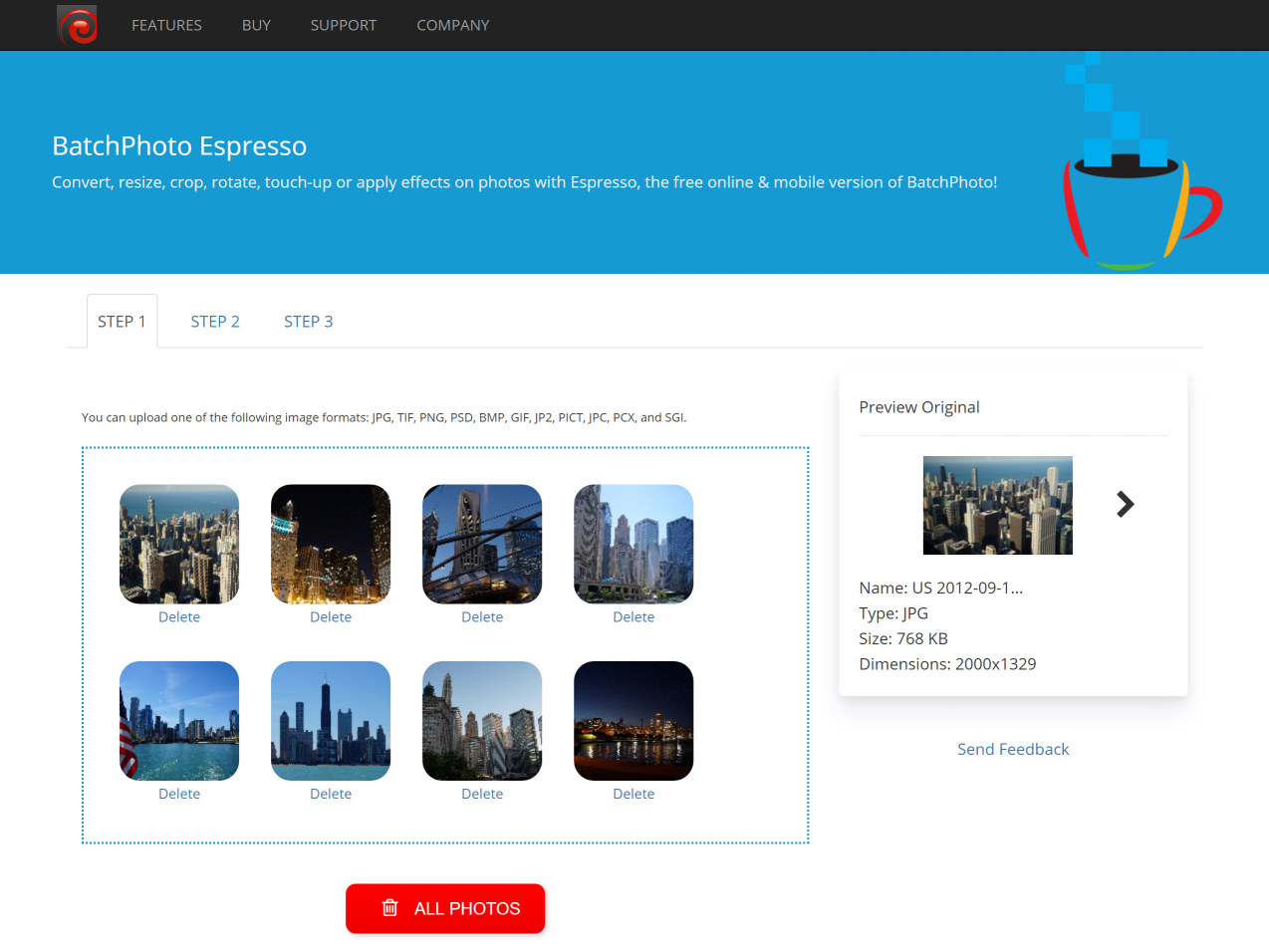 BatchPhoto Espresso is the go-to solution if you're looking to resize multiple images online free of charge. Accessible from any computer, smartphone or device connected to the Internet, this tool comes with an intuitive interface that makes it simple to use. Just upload your photos by using drag & drop or just by clicking the button and next choose how to resize them.
To change the size of your files you can either use preset profiles such as VGA, HD or full HD or you can manually enter your preferred dimensions for width and height expressed in pixels or percentage. In addition to resizing, BatchPhoto Espresso allows you to crop, rotate and convert photos in bulk for a complete optimization.
This tool is worth considering not only because it's free and offers the option to batch edit photos, but also because it's got plenty of useful additional features. You have the possibility to enhance your images by adjusting the contrast, brightness, saturation and sharpness or by reducing the noise. You can go even further and apply special effects like black & white, sepia or charcoal and even add text comments to photos.
If you need to reduce the photo size for hundreds of images, it may be a better idea to resize them on your computer without uploading and then downloading them. For this you can use the Windows and Mac version of BatchPhoto.
PhotoSize.net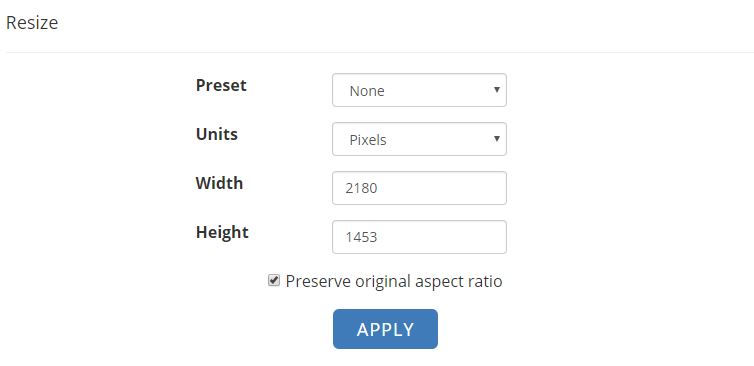 PhotoSize.net is a simple and effective browser-based tool for resizing pictures. The tool is quite easy to use due to the fact that it's structured as a three-step wizard: you add your files, apply the resize filter and select your saving options.
The resize filter gives you multiple options to reduce the size of your photos. You can choose one of the numerous presets, which among others include SVGA, HD or Full HD quality, or you can type in the desired values for width and/or height. The tool lets you express the values in either pixels or percentage.
Besides changing the picture size, PhotoSize.net allows you to further optimize your images by cropping or rotating them. You can also improve the general appearance of your photos by automatically adjusting the contrast, by changing the brightness and saturation or by reducing the noise.
Shrink Pictures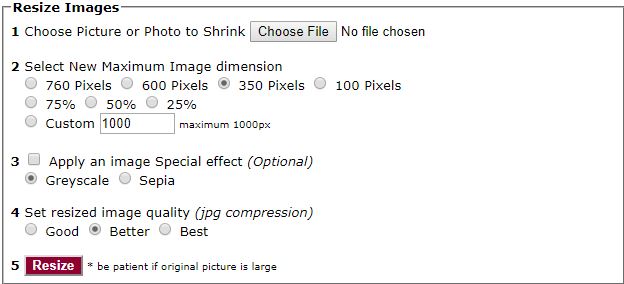 Shrink Pictures is a no-frills, basic online tool to resize images. All you have to do is upload the picture from your computer, select the new dimensions in pixels (there's a maximum 1000 pixels limit) or percentage and choose the picture quality. You can upload JPG, GIF or PNG images up to 6 MB, while the resized images will be automatically converted to the JPG format.
With Shrink Pictures you can also apply a special effect like greyscale and sepia and also turn a photo into an avatar. Creating an avatar for your favorite forum is not complicated: you upload the desired picture, set the size which is accepted by the respective forum and just click the Resize button. 
PicResize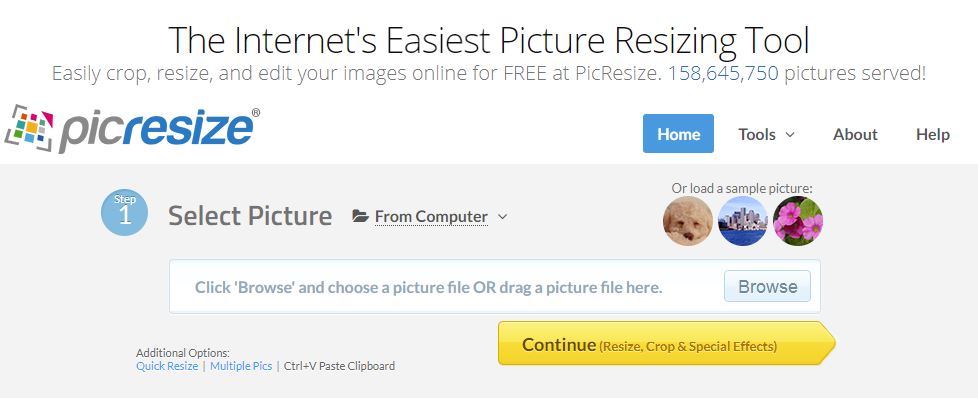 PicResize is an interesting alternative to reduce picture size online. The website allows you to upload your image from your computer or an URL and make it smaller by percentage, make it fit to various screen resolutions or enter a custom size for width and height.
The great part about PicResize is that it comes with a bulk resize option, which is really useful if you're dealing with a larger collection of photos. Besides shrinking pictures, the tool can perform other optimization-related edits, such as cropping, rotating or flipping horizontally and vertically. You can also apply an impressive variety of special effects to your images, which range from Polaroid, frame borders and rounded corners to Tilt-shifted, gaussian blur and Lomo.
Once you're done optimizing your image, you can select from one of the popular image formats to save it which include JPG, PNG or GIF. You have the possibility to preview your edited photo, download it to your computer or share it on popular social media channels like Facebook, Twitter and Pinterest.
I Love IMG

I Love IMG is a free image resizer that enables you to reduce the size of multiple pictures at the same time (you can upload a maximum of 15 pictures at once). You can drag and drop your photos or add them from your computer, Google Drive or Dropbox.
You have two alternatives when it comes to resizing: either by a percentage of 25, 50 or 75 or by entering the exact size for width and height in pixels. An useful feature of I Love IMG is the "Do not enlarge if smaller" checkbox. In case you want all your images to have a width of 1600 pixels and some of them are 1200 pixels wide, the tool won't enlarge them and make them pixelated as long as that checkbox is ticked.
In addition to reducing image size, I Love IMG allows you to crop and convert your pictures. The tool supports common formats like JPG, TIFF, PNG or GIF, as well as certain RAW formats.
Img2Go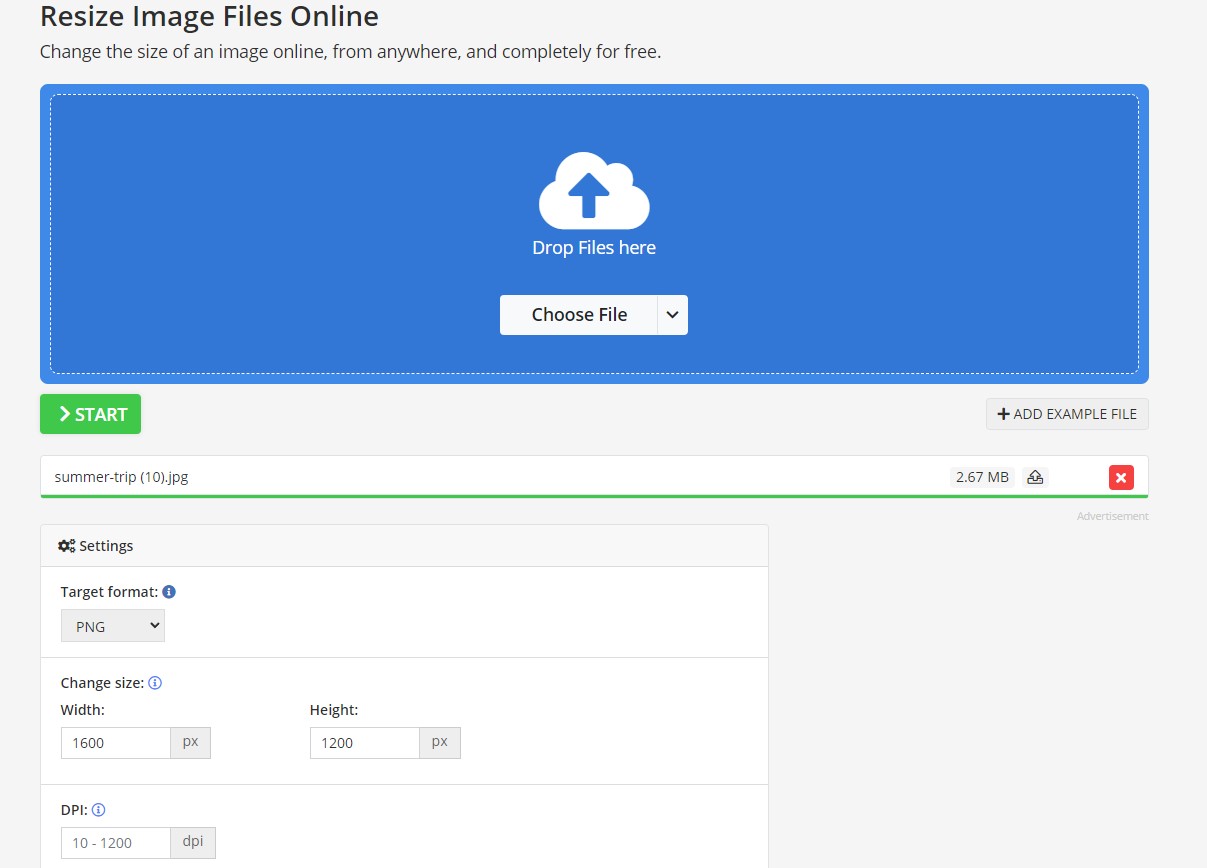 Img2Go is a feature-rich solution that gives you the opportunity to perform various improvements to your images. With this tool you can draw, apply filters, add text, shapes or frames, crop, watermark and convert to and from numerous formats. Speaking of image optimization, the tool offers a series of useful options. You can compress your photos, resize them, as well as upscale them using AI-based technology.
Resizing your pictures is a breeze. All you have to do is upload your files and select your settings. You can upload pictures from your device, from Dropbox, Google Drive and URL Next, in the Settings section, choose the target format (many image formats supported), the new resolution in pixels and the new DPI value. And that's it. Next just hit the Start button. You can download your files individually or as a ZIP file, download them to your phone using a QR code or upload them to the cloud.
Img2Go supports batch processing, but in the free version you get to process a maximum of 3 files simultaneously. 
Image Resizer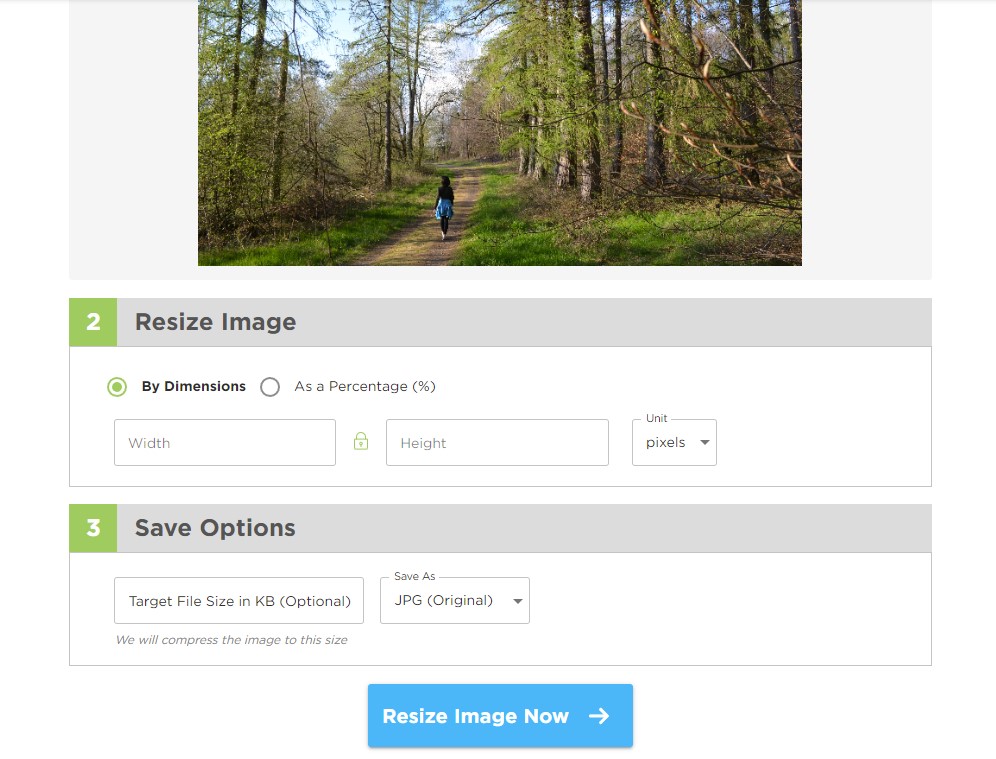 Image Resizer offers the opportunity to resize a single JPG or PNG file or multiple files at the same time. You can upload an image from your device or copy & paste the image URL. Once you've gone through this step, you can begin the resizing process. You can change the size of your picture by dimensions (just enter the new values for width and/or height) or as a percentage (make it 50% smaller for instance). You can also opt to compress the JPG file to a certain file size (option disabled for PNG).
Image Resizer comes with other useful features to help you optimize your photos for web use. The tool enables you to rotate, flip and crop a picture using the free form or preset aspect ratios. In addition to the image resizing and compressing tools, the developers place at the users' disposal an online image converter. Among others, this allows you to convert from HEIC to JPG, from WebP to JPG or PNG to ICO.
Photo Resizer
Photo Resizer is another browser-based editor you can use to change photo size and more. You can open an image or drag & drop it onto the window and easily resize it by either entering the new values for width and height or by dragging the slider until you find the right dimensions.
Photo Resizer allows you to perform other useful edits as well, such as rotating, flipping or cropping. You can custom crop your image, crop it to a series of predefined aspect ratios and even particularly crop it to match the Facebook, Twitter or Instagram requirements. The tool places at your disposal options to apply artistic filters like grayscale and invert and also to draw various shapes on your picture and add text.
When you're done editing your photo, you'll be able to directly share it on social networks like Facebook and Twitter, send it to friends via email or print it.
 Simple Image Resizer
Simple Image Resizer offers a decent amount of features and is quite easy to use. This free website enables you to reduce image size to a specific number of KB, to customize the resolution, as well as batch compress and optimize pictures. The process is pretty straightforward: upload an image from your computer, define its new resolution by percentage or by entering the values for width and height and next click the Resize button. 
A useful feature of this tool is its capacity to resize photos for social media use. Simple Image Resizer allows you to adjust the image resolution for a Facebook profile photo, post or ad, for an Instagram story, a Twitter header and many more. In addition you'll find options to crop your pictures and convert them to a popular format. 
ReduceImages
ReduceImages is a straightforward solution to resize your pictures individually or in bulk. If you do need to change the resolution of multiple photos at once, it's important to know that you'll have to opt for one of the available subscriptions. The free version lets you resize one picture at a time.
On the plus side, the resizing process is quite easy: simply select a photo from your computer and enter the new dimensions for width/height in pixels, percentage, centimeters or inches. The tool also provides options to set the DPI resolution, choose the image quality and output format between JPG, PNG and GIF.